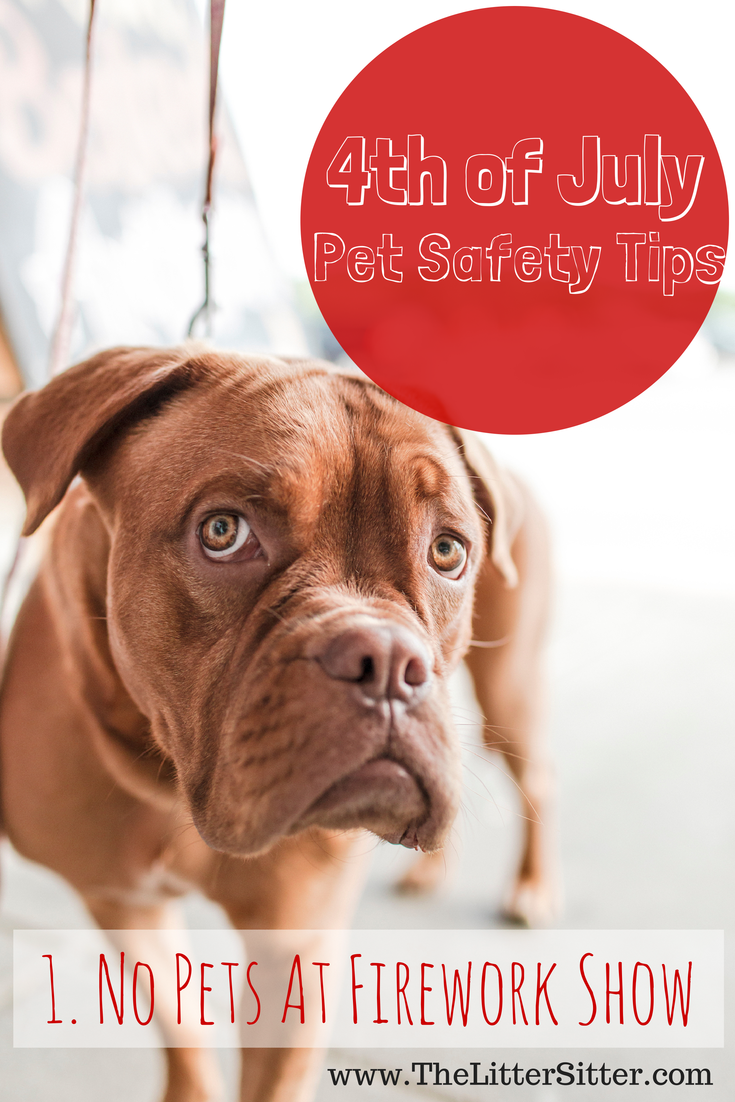 For most pet parents the 4th of July is a great way to get together with friends and family and celebrate with food and fireworks. Many pet parents may be tempted to bring along their furry friends to take part in the weekends festivities but that may not be a wise decision. There are a number of reasons why bringing your furry friend along may cause more harm than good especially when dealing with extremely loud noises, strangers and a variety of food that someone will more than likely feed them. So I've put together a few pet safety tips to help aid you for this 4th of July holiday!
Pet Safety Tips Do's & Don'ts
DON'T…
1. Bring Your Pet Along For The Firework Show 
I can't begin to tell you how many times I've seen dogs in attendance at these firework shows and every single time I see them not long after the show starts they're taking off scared because of the loud explosive sounds! Our dogs don't know that these fireworks are normal and ok so when they hear these loud booms they literally think it's the end of the world and they're running for cover, which is why it's a terrible idea to bring them along with you. You might lose your pet in all the chaos and not find them!
2. Feed Your Pet Table Scraps
Hopefully your not a routine offender when it comes to feeding your pet human food because the 4th of July is one of the most popular holidays for grilling and you don't want to be tempted to feed your pet food that isn't normally in their everyday diet. Doing so would could upset stomach and in some cases severe diarrhea. No one should have to spend their holiday cooped up inside with a tummy ache so don't do it to your dog.
3. Give Your Pet Alcoholic Beverages 
I think this goes without saying and it's common sense but I'm going to add this one to our list anyway, just in case. Pets weren't designed to drink alcoholic drinks and doing so could have some detrimental effects for your furry friend.
4. Use Fireworks Around Your Pet 
As mentioned above our pets can get extremely overwhelmed when hearing loud booming sounds made my fireworks so it's best not to use them around your pet. Keep your pet indoors while you start lightening them up or for even more protection don't use them at all.
5. Spray Sunscreen or Repellent on Your Pet That Isn't Specifically For Pets 
If you decide that your pet does need sunscreen (white dogs are very susceptible to sun burn) or bug repellent be sure to use products that are specifically for pets and not used for humans. There are different chemicals inhuman products that may cause severe allergic reaction in pets so it's always better to be safe than sorry!
DO…
1. Make Sure All Pets Are Wearing Current ID Tags
It's very important that all pets have ID tags on them during this holiday in particular. There are so many pets that go missing during this time because of the fireworks so if your pet does go missing you'll have a better chance of finding them since they're wearing their tags than if they weren't
2. Create A Safe Room For Your Pet To Retire To
Making a space for your pet to hide in is great when all the festivities are underway. This way they'll have a room or a crate to snuggle up in that's enclosed/covered and reduces the loud sounds.
3. Provide Pets With Comforting Toys, Treats and Blankets
These would be a great addition to the safe place you've created for your pet. They'll help in comforting your pet while all the fireworks are going off during the day and night.
4. Leave Pets At Home
Most important of all Do's & Don'ts! This goes back to "Not bringing your pet with you to fireworks shows." It's so much better for pets to just stay at home and out of stressful situations that might cause them to freak out and take off. We know how much you love your pet but love them a little less and leave them at home.
What are you doing for this 4th of July holiday? Will you be bringing your pup along with you or celebrating at home?
Lori Waters is the author and voice behind Thee Inside Poop as well as the owner and operator of The Litter Sitter, a local dog walking and pet sitting company in Miami Beach, FL. When she's not busy blogging and taking care of clients' pets you can find her running around with her german shepherd Zoey or having in-depth conversations with her two fur balls, Michi and Oakley!
Latest posts by Lori Waters (see all)