If I had to choose one thing that my dog absolutely had to have it would definitely be a great quality food. Our Zoey has extremely sensitive skin and for the first 2 years of her life she was constantly itching, scratching, biting and licking every single part of her body that she could reach. It was terrible! My husband and I couldn't stand it and we were constantly getting on to her about it especially when she would decide to start going at it in the middle of the night! I can't tell you how many times we've both lost sleep because she just would not stop scratching at herself. At one point it got to be so bad that she was balding in certain spots and had red and raw skin. Unfortunately this seems to be very common with german shepherds, they're apparently very prone to allergies, so I knew that it was very important that we find a good quality food. One that wouldn't add to her already out of control skin issues, specifically one that was free of grains since I knew that this was a source for many skin allergies in dogs. I was so happy when I finally found Orijen's Adult Dog Food and even more impressed after a few months of Zoey being on it that now I pretty recommend it to everyone I know. Family, friends, clients, random people on the street you name it and they've probably already heard about it from me! (You are welcome)
What Makes This Food So Special?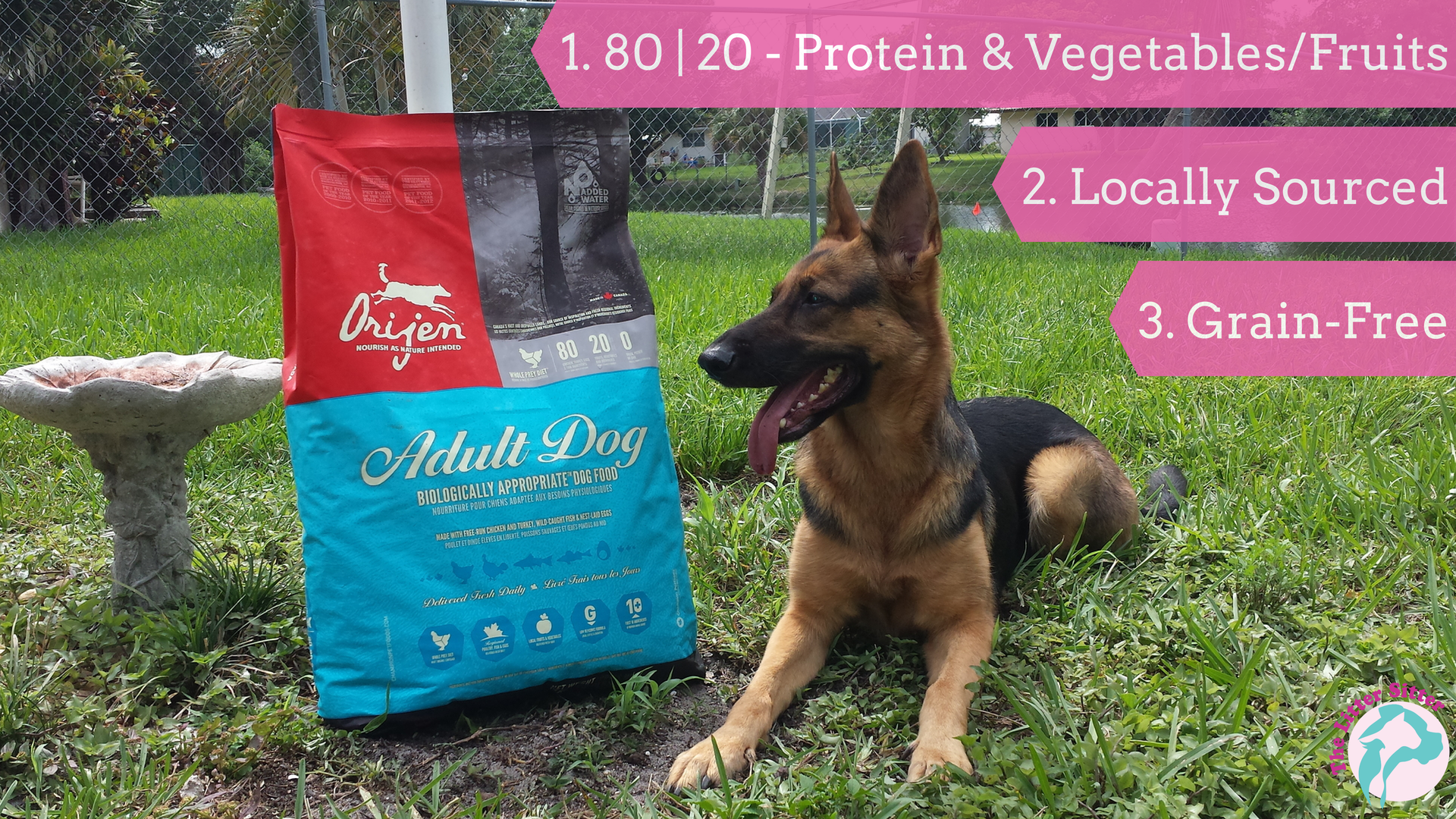 One of the main reasons why we switched Zoey to Orijen, aside from their flashy packaging which for those of you who don't know I'm a HUGE sucker for packaging, is the amount of protein the food contains. If there's one thing you as a pet parent should know is that your dog requires a diet that is rich in proteins with smaller amounts left for fruits and vegetables and not one that is made primarily of carbohydrates, fillers and grains. The majority if not all commercial diets begin and end with grains which is the primary cause for many pets that suffer from gastrointestinal issues, skin allergies and a whole host of problems. The only animals that would benefit from eating a diet that is rich in grains are horses, cows, goats and any other animal that doesn't require meat as a source of nutrition like our dogs (and cats) do. Orijen's Adult Dog Food contains 80% protein that is fresh, locally sourced and cage-free (yayyy!!!) with also 20% fruits, vegetables and botanicals! A look at their ingredient label shows just how rich in nutrients this bag of food really is:
INGREDIENTS Boneless chicken*, chicken meal, chicken liver*, whole herring*, boneless turkey*, turkey meal, turkey liver*, whole eggs*, boneless walleye*, whole salmon*, chicken heart*, chicken cartilage*, herring meal, salmon meal, chicken liver oil, red lentils, green peas, green lentils, sun-cured alfalfa, yams*, pea fiber, chickpeas, pumpkin*, butternut squash*, spinach greens*, carrots*, Red Delicious apples*, Bartlett pears*, cranberries*, blueberries*, kelp, licorice root, angelica root, fenugreek, marigold, sweet fennel, peppermint leaf, chamomile, dandelion, summer savory, rosemary, Enterococcus faecium.
* FRESH AND PRESERVATIVE-FREE
SUPPLEMENTS Vitamin A, vitamin D3, vitamin E, niacin, riboflavin, folic acid, biotin, vitamin B12, zinc proteinate, iron proteinate, manganese proteinate, copper proteinate, selenium yeast.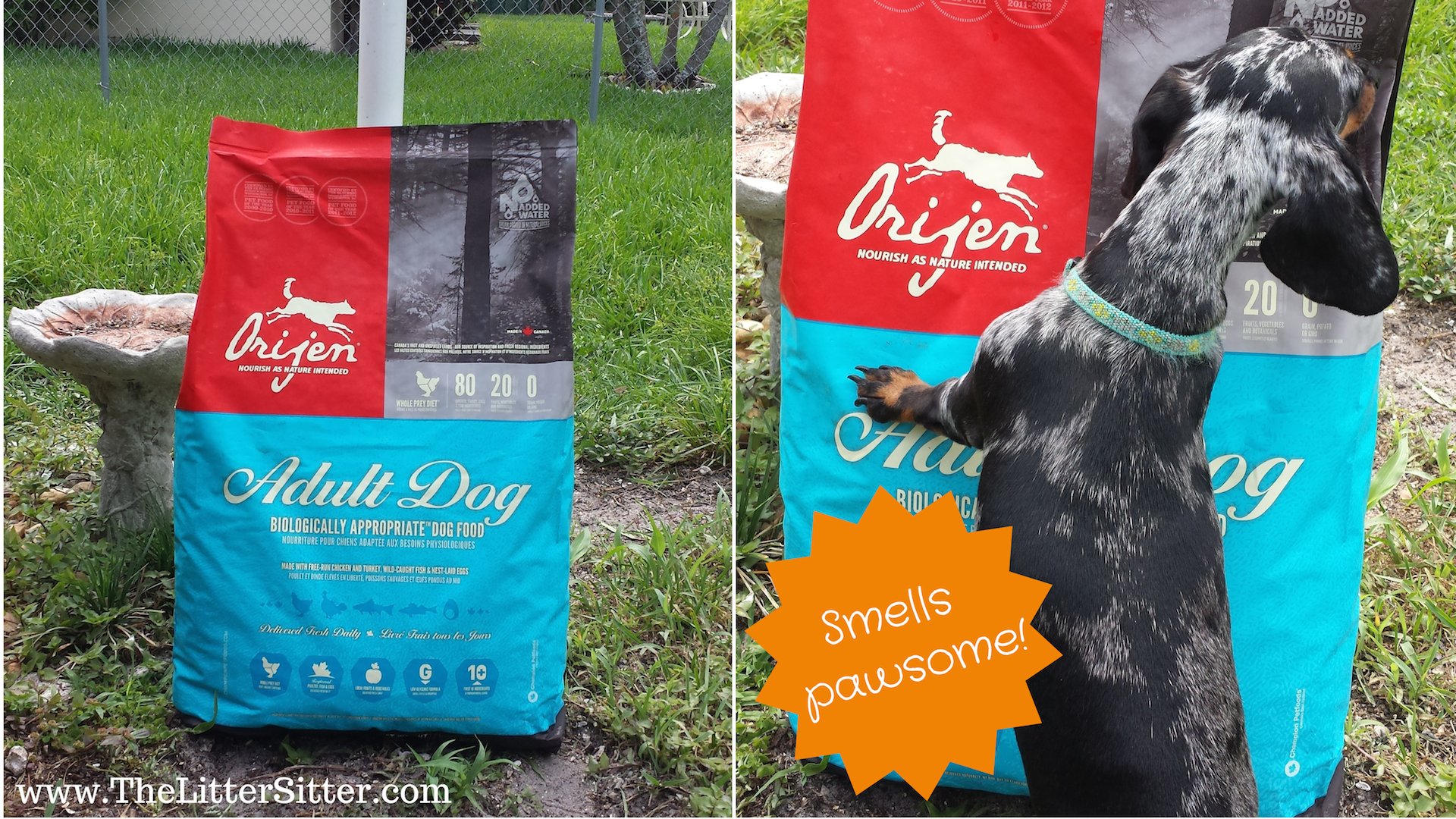 (even Sophie knows this is the GOOD STUFF!)
In regards to our dog Zoey we knew we had stumbled upon a gem when we introduced her to Orijen and could see the incredible improvements on her skin in just a few short months. She is no longer itching, scratching or balding like she used to but instead has a rich, thick and shiny coat! As an added bonus, which I didn't notice until a few months of her on the food, her poop doesn't smell as bad! One thing you'll notice when feeding a good quality food is that your dog will tend to eat less because the food is so rich in nutrients and not full of fillers and they'll also poop less!
What are you currently feeding your pup?
*The opinions contained within this post are my own and I was not paid or compensated in any way for the review of this product. 
Lori Waters is the author and voice behind Thee Inside Poop as well as the owner and operator of The Litter Sitter, a local dog walking and pet sitting company in Miami Beach, FL. When she's not busy blogging and taking care of clients' pets you can find her running around with her german shepherd Zoey or having in-depth conversations with her two fur balls, Michi and Oakley!
Latest posts by Lori Waters (see all)