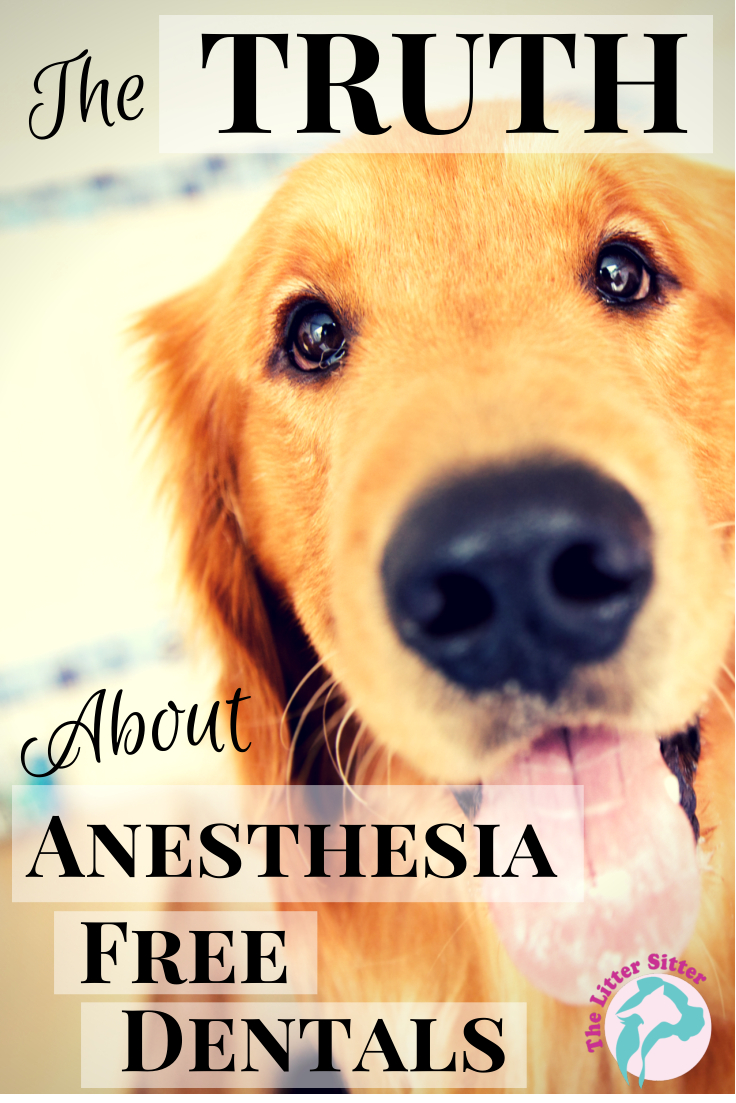 Nonprofessional dental scaling (NPDS), also known as anesthesia free dentistry (AFD), has been increasing in popularity in the last few years  because of client's concerns of the perceived risks of anesthesia as well as it's cost. The issue here, as with many things, is the lack of information/knowledge that pet parents have. I don't think they truly understand what goes on when your pet has a NPDS.
The #1 thing we need to understand about NPDS is that it is simply a cosmetic procedure, meaning that it only deals with the appearance of the pet's teeth. 
Now that that's out of the way let's go over a few things that you don't get with a NPDS.
You don't get:
1. Thorough View of The Pet's Mouth
I don't know if you've ever tried brushing your pet's teeth but they're not the most tolerant fur balls when it comes to having someone stick a foreign object in their mouth and then proceed to rub it back and forth against their teeth, not to mention the fact that the toothpaste doesn't even taste good! And with cats this task is even worse if not impossible. Now imagine trying to open their mouths to inspect their teeth and do a little poking around more specifically below the gum line with a really sharp metal object with no local anesthetic or anesthesia… painful right? Extremely. This kind of probing should not be done on an animal that is wide awake. It's stressful and very, very painful. Don't believe me? Next time you go visit your dentist make sure to opt for an anesthesia-free procedure and then tell me all about it.
It is virtually impossible to get a clear view of every single tooth within a pet's mouth when they are wide awake. They're moving, fidgeting and nervous.  It's very challenging to say the least and also dangerous especially when you're handling sharp, high-powered tools like the ones used during these procedures and if your pet just so happens to need a few teeth extracted then this is definitely out of the question!
2. Radiographs 
Radiographs also tie into the getting-a-thorough-view-of-your-pets-mouth in that they give you an overall view of what is really going on not only underneath the surface of the gum line but also above it as well. With radiographs you can see any and everything and get a more in-depth look at issues that may be occurring for example: fractured teeth, tumors, gingival hyperplasia, discolored teeth, areas of tooth resorption, periodontal disease, bone loss, abscesses, etc; because although your pet may have pretty decent looking teeth that doesn't necessarily mean that your pet may be in the clear. Issues like gingivitis, tartar and plaque aren't things that are readily addressed by a NPDS being that their job is simply cosmetic and they're only concerned about scraping and polishing the teeth.
The above image shows significant bone loss due to periodontal disease
The black spaces shown above indicate severe bone loss due to periodontal disease (these areas should be white)
3. Pain management
This is the single most important aspect of this whole procedure! Yes you want your pet to have healthy and clean teeth but do you really want to accomplish that at your pets expense? I'm sure you've been to the dentist before and know how painful it can be to have someone probe your gums and do any kind of work to your mouth but you usually have some sort of local anesthetic on board working in your favor. In the majority of these pets' cases they don't have that luxury. Most places use some sort of "calming agent" (Rescue Remedy/5 Flower Essence) to keep their patients calm and immobile, if that's even possible, but that does nothing to manage their pain. So chances are they're in pain during the procedure and they're in pain after it.
Now you tell me which sounds like a better outcome, NPDS or traditional dental procedure?
For Our Concerned Pet Parents 
There are always risks involved when pets are put under and pet parents have every right to be concerned but it is important to note that veterinarians who practice routine dentals practice at an advanced level of care and are usually well equipped to safely monitor patients and handle any situations that may arise. They also provide premedications and nerve blocks thus allowing patients to be under a light general anesthesia which allows maximized cardiac output, tissue perfusion and maintained blood pressure.
As a side note, quoted from AVDC (American Veterinary Dental College):
"In the United States and Canada, only licensed veterinarians can practice veterinary medicine. Veterinary medicine includes veterinary surgery, medicine and dentistry. Anyone providing dental services other than a licensed veterinarian, or a supervised and trained veterinary technician, is practicing veterinary medicine without a license and is subject to criminal charges." 
What are your thoughts on NPDS? Have you ever taken your pet to get a NPDS?
Lori Waters is the author and voice behind Thee Inside Poop as well as the owner and operator of The Litter Sitter, a local dog walking and pet sitting company in Miami Beach, FL. When she's not busy blogging and taking care of clients' pets you can find her running around with her german shepherd Zoey or having in-depth conversations with her two fur balls, Michi and Oakley!
Latest posts by Lori Waters (see all)