I remember my college days living in Denver, CO and traveling periodically to Miami to visit family and friends during my school breaks. It was always such a hassle when I had to leave because not only did I have to book flights, pack and run around an airport like a maniac but I also had to make arrangements for my cat every time I took a trip. My go-to person would be a school friend simply because I knew her, trusted her and didn't really think I needed a pet sitter. I honestly had never given it much thought either and figured it's just a person who will feed and clean out my cats litter box while I'm gone.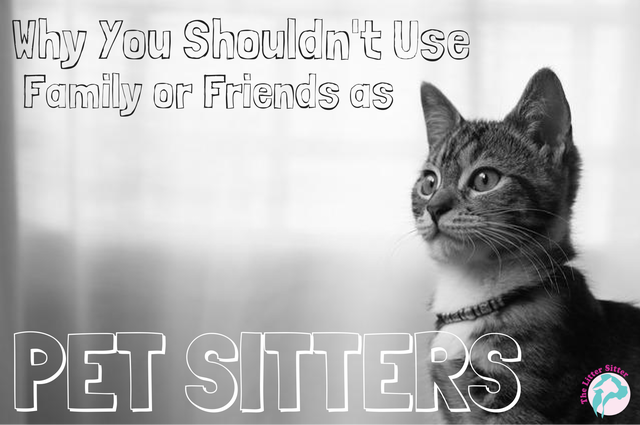 It's not rocket science, anyone can do it… Right? Wrong. As much as I appreciated my friends for taking care of my little rugrat while I was out of town I always came home disappointed in one way or another. But I guess this should be expected as I never paid them for the work they did or in my case the favor they were doing me. I just assumed everyone was as OCD as I am and gave 110% to anything it was they were doing. Having been let down so many times by my friends in regards to to the care of my little fur ball I finally decided to hire a pet sitter and boy did I see a remarkable difference! Here are some of the more notable things that stood out to me: (Keep in mind my trips were typically a week or two in duration) – Bowls were washed and sanitized – Area surrounding litter box was swept and tidy – Excess fur was swept/cleaned up – Hair balls messes were cleaned up – Daily updates on my cat were sent (which was such a relief because I worried about him all the while I was on vacation and felt guilty for leaving him to begin with! So it was nice to know that someone was there hanging out with him and letting me know how he was adjusting while I was gone)
Clearly he was adjusting well without me!
One of the things that frustrated me the most about having family/friends take care of my cat was the fact that I couldn't nag to them about all the things they did wrong for fear of hurting their feelings and also because they were doing it as a favor to me and weren't even getting paid, but with a pet sitter I could easily communicate what I wanted and what I expected from them without having to feel like a diva or guilty for having such high expectations. What can I say? I have standards in regards to the way I want my kids to be treated and taken care of and that's something that this particular pet sitter understood from the get-go. She assured me over and over again that my cat would be in great hands (because I literally spent 30 minutes grilling her with questions and scenarios… that's just my OCD and paranoia kicking in), she made sure to provide all of her credentials as well as qualifying experience and was overall very personable, professional (which I extremely appreciated given the informal type of business pet sitting is, that shocked me altogether) trusting and competent to do the job right! Since hiring my very first pet sitter I've never again asked any family/friends to watch any of my fur ball family members, which has grown in size by 2: Zoey our German Shepherd and Oakley our domestic shorthair aka street cat. I've been extremely pleased with the quality of service I've received from various pet sitters in the last few years and honestly couldn't fathom asking any of my family/friends to care for them knowing now what I know! Have you been debating whether or not to hire your first pet sitter! Or are you a seasoned customer with a bad experience? Contact TLS for your complimentary Meet & Greet consultation where we can assure you your kids are in good hands!
Lori Waters is the author and voice behind Thee Inside Poop as well as the owner and operator of The Litter Sitter, a local dog walking and pet sitting company in Miami Beach, FL. When she's not busy blogging and taking care of clients' pets you can find her running around with her german shepherd Zoey or having in-depth conversations with her two fur balls, Michi and Oakley!
Latest posts by Lori Waters (see all)